We're Getting Mutants in the MCU - The Loop
Play Sound
A young woman turned sharpshooter with unmatched precision. She is accompanied by her brown bear Wojtek.
Anna Kos is a hero of the Polania Republic.
A potent sniper and renowned as a cunning yet compassionate leader, she specializes in scouting and hunting infantry with her deadly rifle and her powerful brown bear Wojtek. They appear as controllable characters in "The Price of Freedom" as well as the last two levels of "The War to End All Wars" campaigns.
General Description
[
]
Anna is a mid-height, averagely built teenaged girl with bright red hair which she keeps in a simple ponytail, fair skin, and blue eyes. She wears a green coat with brown pants, and a navy blue beret as well as a gaiter-like scarf to keep her warm or hide her face.
Her bear Wojtek is a huge brown bear and has little to distinguish him from others of his kind except that he carries two large bags and two small pouches full of supplies on his back as well as a bedroll.
Anna is fast on her feet and has the best range of all infantry hero units. Her ability can thin down a squad even before they get into range, and as Wojtek draws all enemy fire onto himself she is a hard enemy to catch as she can simply run away while the bear distracts. She also has the ability to slowly heal infantry units with Wojtek's bag of medical supplies, making her invaluable as Polania cannot normally train combat medics. These things make her a potent anti-infantry unit, scout, and support unit, but if the enemy is in large numbers or has armor support, she stands little chance except to flee.
Pros
[
]
Strong against infantry
Long range and field of view
Fast, can outrun almost all mechs
Wojtek forces infantry to fight him and is quite tanky
Piercing Shot can do a fair bit of damage to mechs from behind and has a relatively short cooldown (40s)
Can heal infantry units for free over time
Cons
[
]
Mostly hopeless against even light armor, particularly the SHM-86 "Kolokol" which knocks her down
Groups of infantry, especially flamethrowers, chew through Wojtek's health fast
Wojtek, if killed, has a long respawn cooldown
Scythe History
[
]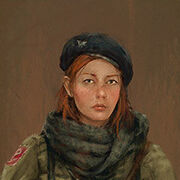 Anna was born into a long line of intellectuals and diplomats. After her parents died in the war, she moved in with her grandfather, a former soldier and avid hunter. He raised her and taught her how to shoot a gun. Over time, Anna became an expert marksman.
On a hunting excursion with her grandfather, Anna discovered a mother bear who had died in a trap. Huddled next to the bear was a young bear cub. Taking pity on the animal, Anna scooped him up in her arms and took him home, much to the dismay of her grandfather.
Anna and Wojtek, as she named the bear, quickly became inseparable. They even developed a form of communication using sign language.
When Anna grew up, she decided to use her marksmanship to aid her country. Wojtek joined her as she enlisted in the newly-formed reconnaissance troops in the Polania army. Together they traveled across the countryside becoming living legends as they distinguished themselves in battle and showed compassion for even the poorest farmer.
When the Factory shut down and rumors swirling about a growing Rusviet force, Anna and Wojtek accepted a mission to ensure the unity and independence of Polania by securing the eastern border and patrolling the lands around the Factory.
Iron Harvest History
[
]
Anna was born before the Great War to Piotr Dybowski, a scientist and engineer, while he worked at the Factory, and Liliana Kos. Shortly after she was born, Liliana was killed during a Rusviet assault on the Factory in 1905, so her father took her to live in the village of Zalesie in the Polania Republic to keep her safe. There, she grew up close to and admired her older brother Janek.
One day, she attempted to beat the village boys singlehandedly in a snowball fight, but refusing to play fair and making her play the Rusviet side, they pelted her until Janek came to her rescue. Pleading with him to teach her to shoot a rifle, her brother relented and taught her to hunt deer. A pair of brand-new Smialy recon mechs belonging to the Polanian military then saved them from a desperate mother brown bear. While Janek left to guide the soldiers to their village, it was left to Anna to harvest the meat. As she was doing so, a distraught bear cub arrived looking for its dead mother. Pitying the cub, she brought it home to the village just in time to see her uncle Lech, a Polanian military leader, recruit Janek into the armed forces to fight Rusviet. She begged him to stay or to let her come with him to no avail. He would be listed as dead, leaving her heartbroken. She would come to depend on her now-pet bear, whom she named Wojtek, whom her father insisted be kept in a cave some distance from their village.
Joining the Resistance
[
]
Many years later, Anna was now a young woman and a crack shot with her rifle, which she carried everywhere. While walking in the forest with her father, a messenger arrived telling Piotr that resistance members wanted to speak to him in town, so he left her to carry on. Soon, Anna spotted Rusviet soldiers in the area, and while regrouping with Wojtek they were attacked by and killed the soldiers. Gathering some militia, they ran to town where the Rusviets were ransacking the place and killing civilians. Rescuing people and finding her father, they were again split up as he tried to draw the enemy away. She again reunited with him only briefly, as they were ambushed by the Rusviet Colonel Lev Kubov who captured Piotr and left Anna for dead.
Determined to rescue her father, Anna and Wojtek ran into scattered Polanian troops, whom she rallied to rescue POW's and recover some lost mech units. They then stormed a train station where Piotr had been held and tortured. A counterattack lead by Zubov himself almost crushed Anna and her battered troops, but the timely arrival of her uncle Lech with reinforcements allowed them to repel the attack. Piotr died from the extreme torture he suffered, but not before having a final word with Anna, sad that he had failed to protect her from war. Lech explained her father's past, and offered her a place in his rebellion.
Bringing Hope
[
]
Joining forces with her uncle, Anna lead the resistance forces to set up a base and capture a Rusviet war train. She coordinated another defense while the train was loaded with supplies, and they narrowly escaped an attacking Gulyay-Gorod heavy mech. While on the train, Lech shared his bleak view of Polania's current state, believing it would take something drastic to stir the people into rising up, but Anna was more optimistic.
On the way to Kolno, where Rusivet had set up a blockade, they were stopped by Polanian military officer Michal Sikorski who ordered Lech to not breach the blockade for fear of breaking the tenuous truce between the Saxony Empire, Polania, and Rusviet. Lech refused and the argument almost came to blows before Anna pleaded with Michal to let them take the starving citizens some food. Michal finally relented, leaving the two to breach the blockade through the use of heavy weapons. Lech began to distrust Anna, however, seeing her growing status as a compassionate hero of the people as potential interference in his chain of command.
Battle of Kolno
[
]
Arriving in Kolno, she began distributing food while looking for Heinrich Steinmetz, a colleague of her father's, but grew uneasy when Lech began offloading weapons and handing them out to the people. Her dread became horror when he revealed his plan: to start an uprising in Kolno, which they both knew would result in a massacre but Lech believed this is what Polania needed to stand up and drive out Rusviet. Anna, of course, refused to let this stand, so Lech attempted to kill her to make her a martyr before she managed knock out Lech with a brick just as Heinrich (who had overheard things) arrived. Too late to stop the uprising, Anna quickly rallied troops loyal to her and evacuated everyone she could find to an airship Heinrich kept in his workshop. She was forced to silence some anti-air batteries, and while assaulting the last gun Zubov ambushed and captured her, Wojtek, and Lech who had come to rescue her.
Zubov then revealed that Lech's uprising had played right into his organization's plans to reignite the war between Polania and Rusviet, executing the resistance leader. Anna, however, was saved by a surprise counterattack by Michal and his cavalry. She mourned her uncle, now determined more than ever to catch Zubov, and with Michal their forces dismantled the remaining Rusviet forces in Kolno. She failed to capture Zubov, but encountered her brother Janek, very much alive albeit only thanks to his advanced prototype exosuit. After her initial shock, she demanded answers, and listened to his story of infiltrating Fenris, the organization Zubov worked for. Janek departed to rejoin the colonel while Anna and Michal stayed to get Kolno back in order, for the city had been liberated.
Assault on the Factory
[
]
Anna and Michal then took their forces to the Factory, where they struggled to gain a foothold as Zubov had gotten there first and breached the defenses using a transponder from her father's mechanical arm. She attempted to take out Zubov herself, but she and Wojtek were captured. Fortunately, Gunter von Duisburg arrived with Olga Morozova and an army of their own, hoping to shelter them in the Factory. Joining forces, Michal and Gunter rescued Anna and pushed into the Factory together, capturing Zubov just as he had found Nikola Tesla. Unfortunately, this activated the Icarus Protocol, unleashing a titanic mech with impenetrable armor that would kill anyone within a 20-kilometer radius with an electrical blast, designed to keep all of Tesla's tech from falling into the wrong hands. Zubov escaped during the chaos while Anna, her allies, and Rusviet troops defecting from Zubov's command managed to bring down the machine before it could fire.
Realizing that Fenris would likely come and try to seize Tesla's designs and prototypes, Anna rallied the armies and heroes of the three once-warring countries together, proclaiming that where emperors and kings had failed to stop Fenris, they would succeed. With Tesla's help, they began repairs to the Factory and started laying down plans to defeat the shadowy menace once and for all.
Weapons
[
]
Anna never strays far from her customized, scoped, bolt-action sniper rifle, and ever since the day she shot her first deer she has practiced her marksmanship. She is lethal against infantry; those that survive a hit from her are knocked flat and left vulnerable.
Her secondary "weapon" is her other constant companion: Wojtek the brown bear. He is big and strong enough to knock soldiers aside like bowling pins while shrugging off tons of bullets. Due to his size and ferocity, and being a melee unit, he tends to draw most of the fire from Anna, and he easily finishes off any enemies she does not. If attacked, he will automatically charge the enemy and will only return to Anna's side if called or if the enemy's dealt with, allowing her to escape or reposition while he absorbs some fire.
Abilities
[
]
Piercing Shot: After a moment to line up, Anna fires a bullet that punches through everything in its path, capable of killing or damaging multiple infantry in one shot.
Ferocious Maul/Call Wojtek: Anna signals to her battle bear to either attack or to retreat to her side in case the odds are too heavily stacked, even for him.
Wojtek (Passive): Wojtek heals all nearby infantry units (including Anna) over time, and will even seek out and approach hurt units within range to heal them.
Trivia
[
]
In Iron Harvest, according to Heinrich "the war of '05" took place when Anna was still a baby (1-4 years old). Given the game's events take place in 1920 that would make her age somewhere in the mid-to-late teens.
Her bear, Wojtek, is named after an actual Syrian brown bear that served in the Polish military during World War 2. He would carry ammunition and raise troop morale with visits, becoming an icon. He even survived the war and lived the rest of his life comfortably in a zoo.

The in-universe Wojtek, however, is most likely a Eurasian brown bear, a larger sub species of brown bear.
In Scythe she adopted Wojetk later in life while in Iron Harvest she adopted him as a young girl.
In Scythe, her parents both died in the Great War when she was older and she goes to live with her grandfather. In Iron Harvest, her mother died in an earlier war when she was a baby, her father survived both wars, and she has a brother.
In Scythe, she learns to hunt and shoot from her grandfather. In Iron Harvest, she has no grandfather and instead her brother teaches her.
In Scythe, Wojtek's mother accidentally died in a trap. In Iron Harvest, she attacked Anna and Janek and was killed by a Smialy.
In Scythe, Anna is employed by the actual Polanian military. In Iron Harvest, she serves with the resistance as the government, and thus most of the official military, have capitulated to Rusviet.
Her bear Wojtek is the only companion animal permanently summoned (unless killed, then he has a cooldown before he can be re-summoned).
In "Defending Zalesie" if she does not go to Wojtek's cave and instead goes to Zalasie or the workers, Wojtek appears on his own and charges the Rusviet soldiers in her defense.
Images
[
]