"Please be aware!"
This article reflects alpha content, so content is subject to change.
Like what you see? Go to the official site to back this game and get alpha access!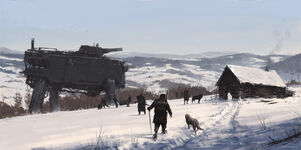 A legendary mech with devastating broadside cannons capable of carrying troops into battle. Piloted by Gunter von Duisburg, a tactician of great renown.
Brunhilde is a unique super-heavy mech produced by the Saxony Empire. One of the biggest and heaviest mechs ever built, it is the epitome of the Saxony Empire's military doctrine: heavy armor and lots of firepower.
Few words can describe the feeling of seeing this looming "hundred tons of iron" trudging onto the battlefield. She is an inelegant weapon as ignorant of subtlety as her owner, instead invoking a shock-and-awe factor with firepower and the ability to shrug off damage. She walks on four very sturdy legs, three of which must always be planted on the ground to support the weight. Each side of the boxy chassis features three gun ports featuring powerful cannons, and the most powerful cannon is mounted atop the chassis with a 360-degree field of view. Towards the rear is the smoke-stack and a partially exposed engine unit.
Like her owner, Brunehilde is strong in a head-on fight. She starts out with almost a thousand health, heavy armor and can fire at opponents on all sides, making her a good line-breaker unit to head an assault if properly supported. She is not invincible, but about as close as a mech can get. She can deal a lot of damage and can devastate enemy units with an artillery shell. Turn her broadsides to face the enemy and watch the enemies get pounded.
Brunhilde's greatest weaknesses are two blind spots, forward and behind, where she cannot fire broadsides and her main turret reloads slowly. Her armor is strong but health-wise far outclassed by most mainline heavy mechs. She is also expensive to spawn in and takes a long time to repair if incapacitated, so if she falls to concentrated fire the assault will be stalled and care will have to be taken to defend her while she is brought back to fighting condition. She is also incredibly slow and a huge target, so it can be slowly kited and outmaneuvered groups of agile units or taken down by artillery.
Heaviest ranged firepower of all hero units, particularly from the sides
Main cannon has good range, heavy damage, and can fire in all directions
Heavy armor and highest health of all hero units (except Lech who has more health but only medium armor)
Devastating Artillery Shell ability
Garrisoned units are protected and greatly boost broadside rate of fire
The slowest unit in the game.
Outarmored by most other heavy units
Vulnerable to artillery and field cannons
Broadsides cannot fire forward or backward
Main cannon is slow firing, Artillery Shell has a long cooldown
Her main weapon is a large-bore mortar even larger than the SKS-300 "Kaiser's" cannon but mounted on a turret. She can fire a long-range artillery shot that deals incredible damage. She also has half a dozen broadside-mounted cannons, three on each side, and these can have their fire rate boosted by putting a squad of infantry onboard.
Artillery Strike: Fire a heavy shell with increased range at a specific target.
Battlestations (Passive): Brunhilde's broadside cannons can be manually crewed and operated by infantry, increasing the weapons rate of fire. Engineers are a popular choice as they can immediately disembark to repair.
Field Repairs (Passive): Brunhilde undergoes repairs when stationary, regaining health over time. Campaign only.
Going by some concept art, this mech is possibly one of Saxony's first combat mechs, if not the first.
Brunhilde is the name of one of the Valkyries and a powerful female warrior in Norse mythology.
She looks like a walking A7V tank from World War I.

She is also reminiscent of the All Terrain Armored Transport (AT-AT) walker from Star Wars, belonging to the Galactic Empire.
Community content is available under
CC-BY-SA
unless otherwise noted.