"Please be aware!"
This article reflects beta content, so content is subject to change.
Like what you see? Go to the official site for further information!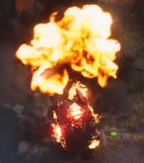 A unit gets damage, when hit by an enemy unit (there is no friendly fire). When hit by a bullet (bullets also can miss a target), the amount of damage is directly subtracted from the remaining health, where the damage received depends on the armor-class of the unit, that was hit. Each weapon deals a constant/fixed amount of damage to each of the five armor-classes. In other words, there is no random factor and a weapon does always deal the same amount of damage against a specific armor-class. The only exception to this rule is veterancy, which will be discussed further below on this page.
The damage taken by a unit depends on the functions that are introduced in the following table.


Therefore the new amount of health is calculated with the formula:
A unit that reaches 0 or less health, gets destroyed or killed.
Veteran-units deal 1.15 times as much damage and Elite-units deal 1.3 times as much damage as units without veterancy (That seems to be the case for all types of damage). So the above mentioned formula for calculating the new amount of health changes to:
Splash Damage / Melee Damage
[
edit
|
edit source
]
The calculation of splash damage and melee damage works like the basic damage calculation explained above. The only difference is, that there is no directly hitting bullet. Instead, the unit is hit by the explosion of the exploding bullet or by the melee weapon. Especially when talking about splash damage, that means, that a unit, can be hit multiple times by one bullet, when multiple "models"/"soldiers" of the unit are hit by the same explosion. Each model that was hit by the explosion then receives the splash damage, but it's never possible for a single model of a unit to be hit directly by a bullet and to be hit simultaneously by the explosion of the same bullet.
Community content is available under
CC-BY-SA
unless otherwise noted.