Jurassic World: Dominion Dominates Fandom Wikis - The Loop
Play Sound
A tactician of great renown and inimitable skill. He is accompanied by his two wolves Nacht and Tag.
Gunter von Duisburg is a hero of the Saxonian Empire. He is a much respected commander, a Great War veteran, and often close behind him are his two frightening dire wolfs Nacht and Tag.
General Description
[
]
Gunter is a man one would perceive as past his prime, but, as he puts it: "this old dog still bites." Tall and imposing, he gives off a gruff and unsubtle demeanor. He has a thick white beard and mustache with a crooked nose. He wears a large black trench coat with red lining, a tall fur collar covering his neck, and on his right arm is an intricate mechanical device called the "Iron Fist" that houses a powerful armor-piercing bayonet. He also wears a flak jacket adorned with the iron cross, black boots, dark blue trousers, and atop his head is the iconic "pickelhaube" style of spiked helmet.
Nacht and Tag particularly large specimens of wolf belonging to Gunter, each standing up to his waist. Their fur is black and white respectively, reflecting their names: Night and Day.
Gunter is, in his own words, an "axe" rather than a "knife": trading any amount of subtlety for some of the best firepower of all infantry units. Wielding a powerful handcannon, he can blast through armor while his bayonet ability can deal a heavy blow to mechs as well. His wolves can be sent to scout ahead without endangering Gunter himself, a valuable asset to a faction whose units are generally very slow. They also are quite deadly against infantry; they attack by seemingly appearing out of nowhere, pouncing, and disappearing just as fast only to reappear at a different angle. However, they won't attack Gunter's enemies if he's fighting at his maximum range; he needs to get within approximately 16 meters of them before his wolves will attack, potentially putting him at greater risk. Like all hero units, Gunter and his wolves are still vulnerable to MGs, larger numbers of enemies, and he is relatively slow.
Pros
[
]
Strongest-all-around infantry hero for open combat, including those from the campaign
Great hand cannon damage, can kill a single Eisenhans in 2-3 shots
Iron Fist ability deals incredible armor damage especially from behind
Toughest infantry hero
Can defeat mechs easily in small numbers
Wolves can scout to almost anywhere, can be used two at a time, and can be redeployed almost instantly upon return
Wolves cannot be focused down unlike Wojtek in combat mode
Cons
[
]
Slower than most infantry heroes
Cannot deal with groups as well as Janek Kos
Weapon fires slowly with fairly short range
Wolves are vulnerable to weapons fire while scouting
Wolves won't attack Gunter's enemies if he fights at his maximum range
Can be overwhelmed by numbers or heavy armor
Scythe Lore
[
]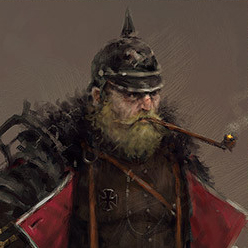 Gunter von Duisburg grew up in a wealthy, aristocratic family known for the dire wolves they bred and sold across the country. As a young boy he traveled with his father across Africa, where he developed excellent hunting skills and an interest in archeology.
With a strong love of his country, Gunter enlisted in the Saxonian army. He spent the first few years of service training soldiers to work with dire wolves, where he formed a kinship with two particular wolves: Nacht and Tag (Night and Day).
When the war began, Gunter and his wolves led elite mech squads across the forests and mountains of Saxony and Europe. His name was both feared and respected, and his jacket grew heavy with medals of honor.
After the war, the Saxon emperor sought an audience with Gunter, Nacht, and Tag. He asked them to go on a special mission to the east, where he saw an opportunity to expand to the unclaimed lands surrounding the Factory. Gunter was never one to turn down an adventure, so off he went to the east.
Iron Harvest Lore
[
]
Gunter would join the Saxonian military at some point, and rose to become one of the finest and most respected tacticians of the Empire's forces. He even became a good friend to Kaiser Friedrich himself, the two having met in the training academy.
Great War
[
]
In 1915 he lead the first major offensive of the Great War against the Polania Republic: Operation "Sonnenaufgang." Joined by Prince Wilhelm himself, the plan was to assault the border and take a train station, anticipating an easy victory against a light defense. However, the attack went south when the defenders were supported by weapon systems, mechs, and artillery, pushing back Gunter's meager force comprised of his mech Brunhilde, Wilhelm's mech, infantry, and captured field guns. Driven back to the rally point, they were narrowly saved by the arrival of friendly armor. Gunter realized then that this would be no quick, easy war, but a long slog of push and pull until one side's reserves were finally exhausted.
Gunter and Wilhelm soon came to be at odds, with the latter developing a bitter hatred to the enemy and offering little quarter, a view Gunter did not share as he still believed war should be an honorable affair. When Wilhelm gassed an enemy fortress and broke the trench warfare stalemate, Gunter was appalled.
One day they were assaulting a strategically important village, but Wilhelm refused to listen and charged in too early, getting caught in an ambush until Gunter came to his rescue. Snapping from the stresses of war and his experiences, Wilhelm shot a number of POWs, forcing Gunter to knock him unconscious, shooting an insubordinate Stormtrooper in the leg who tried to stop him, and expose what he had done. To preserve the monarchy, with Wilhelm being the heir, the Kaiser defamed Gunter as a liar. Humiliated, Gunter retired to his home of Castle Duisburg to hunt birds with his wolves, leaving Brunhilde in the care of a friend named Karl Ruede. He would suffer from grim visions of his past battles on at least one occasion.
Framed for Regicide
[
]
In 1920, he received word from the Kaiser to come to Dresden and discuss the threat of Fenris, an organization out for his life and aiming to destabilize the countries to start another war. He begrudgingly obliged, but still embittered by past events and infuriated by the Kaiser's unwillingness to discuss said events he refused to listen to his old friend's pleas or Olga Morozova's report. That night, unable to sleep, he met Friedrich in the garden and had a more earnest chat. Then, tragedy struck: the Kaiser was shot dead by Wilhelm with Gunter's own weapon. Blamed for the murder and labeled an enemy of the state, Wilhelm hunted Gunter while taking over the country and eliminating any political enemies. Gunter first went to Karl's home to retrieve Brunhilde, only to find roadblocks and squads of enemies waiting for him.
Gathering everyone he could and getting them to safety, he collected Brunhilde, her mechanic and Karl's daughter Frieda, and together with Olga they fought their way to Tesla's Factory where they would all hopefully be safe. Upon arrival, he found the Rusviets had somehow breached the facility, and working with Polanian cavalry officer Michal Sikorski Gunter stormed the facility and took their leader Colonel Zubov at gunpoint. The activation of Tesla's "Icarus Protocol" allowed the Colonel to escape in the chaos, and together with Janek and Anna Kos, Michal, Frieda, and Olga, Gunter battled the penultimate mech to prevent it using its electrical blast to kill thousands of people. Gunter's men also allied with Polanian resistance fighters and once-Zubov-led Rusviet defectors to support them in the fight, and together they narrowly defeated the machine before it could fire.
With the threat of Fenris now looming over the Factory, Gunter and his forces allied with the Polanian Resistance and the Rusviet defectors began to mount a strong defense with goals to finally put an end to the organization.
Weapons
[
]
Gunter's main weapon is his single-shot handheld grenade launcher which deals heavy damage to all units, although it fires slowly. If close enough, Gunter can deal a finishing blow with the pneumatic bayonet on his arm. Finally, he can call up his two wolves to defend him in a close quarters battle, tearing up and knocking down infantry while be blows the enemy apart.
Abilities
[
]
Scouting Route: Order Nacht or Tag to move towards a specified position, revealing the fog of war along the way.
Iron Fist: Deal a powerful anti-armor blow against a target with a concealed bayonet.
Pack Leader (Passive): Tag and Nacht will protect their master, automatically attacking units within range.
Trivia
[
]
The name "Gunter" doesn't exist in German but the name "Günther" does this name means Battle or army.
Gunter is left-handed with his handcannon.

This grenade launcher has the power to blow down a tree in one of the cutscenes. The recoil of such a weapon would likely shatter any man's arm but he wields it like a pistol.
Gunter's wolves are not present during the Great War in Iron Harvest: he either obtained his wolves afterwards or he decided to not bring them with him to the front, this is a contrast from Scythe in which it is said they never left Gunter's side.

When his wolves attack, sometimes you may notice a softened gunshot and a tracer firing from Gunter's location at the enemy being targeted by the wolves.
He partakes in tobacco with his pipe, regularly drinks from a silver flask, and hunts birds with his wolves.
In Scythe Gunter is said to have fought across Europe during the Great War, whilst in Iron Harvest his entire service is shown to be on the eastern front alongside Prince Wilhelm.

In Scythe Gunter is sent to The Factory whilst in Iron Harvest he is forced by circumstances to go to The Factory.
Though Brunhilde is owned by Gunter as depicted in painting by Jakub Różalski Scythe omits mention of it's use whilst in Iron Harvest Gunter is shown to pilot it throughout his service during the Great War.
Lastly though in both Scythe and Iron Harvest Gunter is said to come from an Aristocratic family they are said to have a military tradition rather than a breeding tradition and mentions of them taking trips to Africa is omitted in Iron Harvest.

Gunter exhibits very strong shell-shock symptoms although he manages to remain surprisingly calm during his flashbacks.

This is also noted in some medical files. He is averted to large open spaces (as one would tend to find on a battlefield) and he is prescribed 130mg of Phenobarbital, a barbiturate used to help treat seizures.

He is the only hero unit that can be used either as an infantry unit or a mech unit (Brunehilde) albeit not both at once. In the later parts of the Saxony campaign, he is an infantry unit while Brunhilde is piloted by Friede instead.

This can be changed in multiplayer with two allied Saxon players choosing Brunhilde and Gunter respectively.

Operation "Sonnenaufgang (Sunrise)" references a German Axis operation in 1944, marking the end and failure of the last major German counter-offensive of WWII.
Duisburg is a real German City and is in the German state of North Rhine Westphalia.
Images
[
]