The leader of the Polanian Resistance piloting a melee-focused mech. Can rapidly close the distance with opponents or engage at medium range.
Lech Kos is a hero of the Polania Republic, the brother-in-law of Piotr and the uncle of Anna. A Great War veteran, experienced leader, patriot, and fierce resistance fighter during 1920, he leads the charge in his own customized mech built around melee and close range attacks.
General Description
[
]
Few would look at Kos and mistake him for being anything but tough and stubborn as a badger. Kos stands at about average height with brown hair unlike his brother-in-law Piotr. His hair is slicked to the side and he has a mustache, soul patch, as well as many scars on the right side of his head. He is seen wearing his officer's service uniform. Before the war, he had sideburns and no scars.
His mech greatly resembles a gorilla, having a hunched stance with two small rear legs, two massive arms, and a round, barrel-chested chassis. The cockpit is in the middle of the chest with a large open viewport. The left arm carries a large-bore cannon with a huge folding blade while the other is tipped with what looks like a huge meat mallet for anti-armor melee blows.
Lech is quite powerful against all units, dealing heavy damage to all types of armor with his melee strikes. His cannon ability allows him to greatly soften up an infantry swarm before finishing them off, and his medium armor and respectable health mean he can ignore lots of small arms fire and some heavier weapons while dishing out plenty of pain. He's also surprisingly fast for a mech, meaning he can close the distance or withdraw fairly easily.
His main weaknesses are his relatively slow attack speed, so tougher and heavier units like the SHM-69 "Serp" should be avoided One-on-one he is quite strong against most units, but when the numbers stack up they can take advantage of his slow attack speed and outflank him to do more damage. His sole ranged weapon has fairly short range, and during its brief readying animation infantry can move out of its firing arc to negate some damage.
Pros
[
]
Strong against infantry and up to medium armor
Tough with medium armor
Ability is great against clumps of units even if behind cover and has a moderate cooldown
Faster than many mech units
Cons
[
]
Slow attack speed, struggles against groups
Cannot duel stronger heavy mechs or anti-mech units
Vulnerable to field cannons
Takes more damage from behind
History
[
]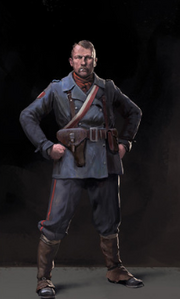 Before the days of Iron Harvest, Lech Kos already knew Piotr Dybowski and did not appreciate the fact that his sister, Liliana, got engaged to him and went to live in Tesla's Factory. He was already showing a tendency to focus on Polania's affairs rather than the rest of the world, and especially did not appreciate his sister marrying the scientist.
Great War
[
]
Prior to the Great War, in response to the Rusviet Union's aggression Lech went throughout Polania to gather volunteers for the defense of the country. He visited his brother-in-law's family to recruit Anna's brother Janek, tempting him with the promises of adventure and mechs, as well as appealing to his patriotism. Piotr resisted, but Lech insinuated his brother-in-law being a coward. Janek would agree and enlist, but while Lech would survive the devastating conflict Janek would be listed among the millions of casualties.
He continued his military career in the post-war era, and developed a hatred of Rusviet because of his experiences. He partook in the peace talks at the end of the war in St. Petersburg, and apparently ended up assaulting the Rusviet dignitary Colonel Lev Aleksey Zubov, although an attack by revolutionaries would force him to fight for his life alongside Rusviets loyal to the Tsar. He was nonetheless furious at the terms of the treaty, which saw Polania surrender over a third of its northeastern territory to an armed occupation by Rusviet.
Leading the Resistance
[
]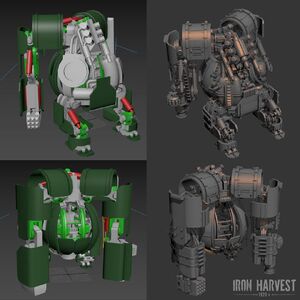 When the Rusviet military blockaded the city of Kolno, he refused his government's orders to stand down and began waging a guerrilla war against the invaders. He would later learn that Piotr was a target of Colonel Zubov, and led some men in an attempt to rescue him. His troops would arrive just in time to save his niece Anna whose army was making a last stand against Colonel Zubov's forces, allowing them to repel the attack. Lech personally engaged the Colonel in his mech, who then fled. However, Lech did not arrive in time to save Piotr, who died of injuries due to torture.
Joining forces with Anna, they raided a train depot to steal a Rusviet war train full of supplies and made their way towards Kolno to break the blockade. While fleeing the depot, a Rusviet Gulyay-Gorod blew one of the rear cars off the track which threatened to derail the whole train. Lech ran up along side and tore away the careening car with his mech, saving the train as he jumped onto the last car and they all escaped. As the train rode through the night, he shared his grim view of the situation with Anna. In contrast to her outlook of hope, he believed that Polania would lose unless something drastic happened to unite the people.
Encountering enemy resistance, as they neared Kolno they were stopped by fellow Polanian officer Michal Sikorski, who once again ordered Lech to stand down. Infuriated and disgusted by what he saw as cowardice, Lech again refused and aimed his mech's cannon at Michal in defiance. Anna managed to diffuse the situation and Michal left, but Anna stepping out of line irked Lech, seeing it as her undermining his command and sewing dissent into the ranks. Regardless, they worked together to breach the blockade and continued towards Kolno.
Massacre of Kolno
[
]
Arriving in Kolno, while Anna distributed food and tried to find Heinrich Steinmetz, Lech began to set in motion something very drastic indeed: to hand out weapons to the civilians and start an uprising. When a horrified Anna points out that this would most likely result in a massacre, Lech also points out that this is what it would take to stir Polania to rise up and drive out Rusviet. Anna refused to help, and before Lech could make her "a martyr" she was forced to subdue her uncle with a brick. While she gathered her men to rescue civilians, Lech waged his own war in the streets. The door-to-door fighting was so brutal that some of his men would even abandon his ranks to side with Anna, believing him to have gone mad. His troops fought to hold three major choke-points but struggled to advance beyond the bridges across the river bisecting the city.
Death
[
]
When Anna was captured by Zubov while assaulting heavy gun batteries, Lech charged in with his mech and fought Zubov in hand-to-hand, nearly gaining the advantage, but he was overwhelmed and also captured. Lech then discovered that his plan for a massive revolt had played into the hands of an organization named Fenris who wanted another war to happen and had also orchestrated the attack on St. Petersburg. His uprising had violated the treaty, which would invite a full Rusviet invasion. Outraged at having been made into a puppet, he tried to attack Zubov with his bare hands and was shot dead.
Despite his plans for Kolno, Anna mourned her uncle, having died fighting to the end and never giving up. His uprising had worked in a way: the subsequent slaughter drove Michal to action, using his cavalry to drive back the Rusviets and helping Anna liberate the city.
Weapons
[
]
Lech himself is seen wearing his service pistol as part of his uniform, but his greatest weapon is his mech.
The main weapon is a powerful pummel built into the right arm, which deals very heavy melee damage to all armor types. His mech's left arm, meanwhile, mounts a large cannon which can fire explosive rounds at close range, and has a large folding bayonet like a switchblade which snaps forward for melee attacks with the left arm.
Abilities
[
]
Relentless Fury: Fires a series of rounds, targeting each enemy in range once. Shots deal damage in a small AOE and knock enemy infantry down.
Vicious Tackle: Pushing his mech to the limits, Lech leaps forward, trampling any infantry in his path and attacking the first mech he hits.
Patriotic Frenzy (Passive): This stalwart of the Polanian resistance inflicts increasing damage in proportion to his health loss.
Quotes
[
]
When Produced:
Ready to give my life for Polania!
Idle:
Selected:
"What is it?"
"Go on then!"
"Am I needed?"
Selected multiple time (Annoyed):
"This better be damn important!"
"Speak up and stop sputtering!"
"Polanians are suffering while we sit idly by!"
Moving:
"Just try and stop me!"
"Take me to the fight!"
"Time to get moving."
Melee Attack:
"I'll beat them back!"
"For our people!"
"Their time Has come!"
Attacking with "Relentless Fury":
Ordered to Halt:
Retreating:
"I'll be back!"
"Bugger it all!"
Returning to base after retreating:
I'm not down send me back!
I'm fine, just need a breather!
Gallery
[
]
Trivia
[
]
Lech's first name is a reference to the legendary founder of Poland, Lech, who supposedly settled Poland having been inspired by an eagle defending its nest which is how the country took the eagle as its symbol.
Lech does not seem to exist in the Scythe lore, but since Anna's parents were both killed in the Great War in said lore it was possible that he would have died as well.
Lech seems to drink fairly heavily, possibly because of shell-shock he got during the Great War or the loss of his brother-in-law Piotr.
Lech is the only hero unit absent from the final boss level of the campaign, aside from Zubov.