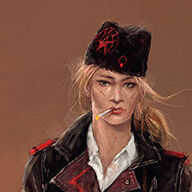 Olga Romanova is a hero unit for the Rusviet faction in Iron Harvest. She relies on stealth and is accompanied by her Siberian tiger, Changa.
Note: The following is from the Scythe game, so information may change in Iron Harvest.
Olga Romanova comes from an old aristocratic family that lost their money and position a long time ago. So she was raised on humble means and in harsh climates, surrounded by simple people and nature. From childhood Olga was taught to have great respect for the Siberian tigers that prowled the Rusviet tundra.
At 15, Olga was already turning into a beautiful woman of strong ambition and intelligence. She caught the eye of Viktor, the young commander of a squadron of mechs traveling through her village on the way to war, and they began to correspond via letter.
Viktor surprised her by showing up on Olga's 16th birthday to present her with a Siberian tiger cub named Changa he had discovered on patrol. The three of them spent the next week together, and they talked of marrying.
Unfortunately, the great war began, and Viktor was called away to service. They continued to write, but one day Olga received word that Viktor had gone missing in enemy territory. She vowed to find him, so she joined the Rusviet military intelligence service with Changa at her side. With her intelligence and ambition, she quickly climbed the ranks, and she finally got the chance to search the western lands for her beloved Viktor with the full strength of the Rusviet military at her back.
Olga Romanova was the daughter of the last Russian emperor Nicholas II(2), and she, Nikolay II, her brother Alexei and sisters Tatiana, Maria, Anastasia and her mother were killed by red revolutiners(communists) in Ipatiev's house in 17th July 1918.
 
Community content is available under
CC-BY-SA
unless otherwise noted.