Jurassic World: Dominion Dominates Fandom Wikis - The Loop
Play Sound
A special agent working for the Tsar who excels in assassinations and sabotage. She is accompanied by her pet tiger Changa.
Olga Morozova/Romanova is a hero of the Rusviet Tsardom. Rusviet's head of security, one of Tsar Nicholas's confidantes, and a stealthy saboteur, she is accompanied by her Siberian tiger, Changa. She appears as a playable character in "A Shadow over Europa."
General Description
[
]
Olga is a woman every bit as sharp as her sword and fierce as her feline companion. She is lean and of average height with blonde hair, fair skin, and blue eyes. She wears a leather jacket with red trim and brass buttons over a light purple shirt, black gloves, slim blue pants with red stripes, and boots. Her hands are never far from her shashka-style sword or submachine gun, both of which she is very proficient with.
Her Siberian tiger Changa is an imposing but nonetheless fast predator, big and strong enough to be ridden as a mount for when Olga needs speed. Like her owner, she is a predator of opportunity, and will stay hidden until the time is right or her owner needs her.
Olga trades overall firepower for stealth and speed, as well as the ability to do fair amounts of damage where she is least expected. She is currently the only unit able to actively stealth (this may change with the Operation Eagle DLC, which seems to feature an artillery mech and a melee infantry unit that can both stealth) so long as she does not get too close to an enemy. She can cut down an infantry squad fairly quickly either with her sword or machine gun, and she can plant remote-detonator bombs either on mechs or structures. If worst comes to worst, she can summon Changa and ride her to get a speedy getaway or just to get to her destination quicker, where she can dismount and fight alongside her big cat. In an overwhelming fight, however, Olga stands little chance, so it is best to keep her well concealed for when the enemy lets their guard down.
Pros
[
]
Excellent scout and spy unit
Can cloak and become invisible
Fast (can outrun regular infantry) even faster on Changa
Explosives are fairly powerful
Deadly against infantry squads at range or in melee
Cons
[
]
Low health and no armor
Automatically decloaks if enemies get too close, if she rides Changa or if she performs an action
Has little active support from Changa unlike Gunter's wolves or Anna's bear
Vulnerable to infantry in numbers or anti-infantry units
Scythe History
[
]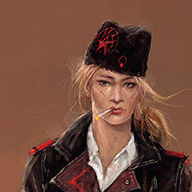 Olga Morozova comes from an old aristocratic family that lost their money and position a long time ago. So she was raised on humble means and in harsh climates, surrounded by simple people and nature. From childhood Olga was taught to have great respect for the Siberian tigers that prowled the Rusviet tundra.
At 15, Olga was already turning into a beautiful woman of strong ambition and intelligence. She caught the eye of Viktor, the young commander of a squadron of mechs traveling through her village on the way to war, and they began to correspond via letter.
Viktor surprised her by showing up on Olga's 16th birthday to present her with a Siberian tiger cub named Changa he had discovered on patrol. The three of them spent the next week together, and they talked of marrying.
Unfortunately, the Great War began, and Viktor was called away to service. They continued to write, but one day Olga received word that Viktor had gone missing in enemy territory. She vowed to find him, so she joined the Rusviet military intelligence service with Changa at her side. With her intelligence and ambition, she quickly climbed the ranks, and she finally got the chance to search the western lands for her beloved Viktor with the full strength of the Rusviet military at her back
Iron Harvest History
[
]
Olga is the daughter of a dance teacher in service to the Tsar's own family, and as such grew up alongside the children of Tsar Nicholas, including Anastasia who was under her mother's tutelage. Olga herself was well-liked by the Tsarina.
At some point in her life, Olga Morozova started working for the Rusviet government as their head of security and, with her long history within the family, she would build a lot of trust with Tsar Nickolaj. She found herself at odds with Colonel Lev Aleksey Zubov, finding his rise through the ranks to be suspicious given his unscrupulous behavior.
Saving the Tsar
[
]
During the peace talks at the end of the Great War in St. Petersburg, she came across Janek Kos spying on the proceedings from a nearby fort walltop and briefly engaged him in hand-to-hand which came to a stalemate. Shortly thereafter, anti-Tsar revolutionaries attacked the palace where the talks were taking place, forcing Olga and Janek to fight their way through while rallying the few guards that remained. The attackers barricaded the bridges leading to the barracks, so Olga acquired some explosives to remove the blockage and made their way to the troop barracks. Olga discovered a grim event: all her troops there had been poisoned, but thankfully her tiger Changa had only been locked up.
Fighting their way to the burning palace, Janek and Olga went inside and split up to look for the Tsar while Zubov held off waves of revolutionaries supported by extremely advanced mech units unlike anything seen before. Olga found the Tsar and escorted him outside just before the building collapsed with Janek still inside. Horrified by the attempt on his life and the deaths of so many, the Tsar had her removed as head of security because of the security scandal but secretly sent her to expose the threat behind the attack.
Hunt for Fenris
[
]
Against the odds, Olga had found Janek barely alive but horribly burnt, so she had him put into an advanced exosuit that would keep him alive. Due to his injuries, she managed to switch his identity with that of a soldier named Victor Popov. She filled Janek in on the existence of Fenris, a shadowy cabal that had the world on puppet strings and who coordinated the St. Petersburg attack.
Olga then managed to infiltrate a Fenris meeting at a castle near where dignitaries had come to celebrate the end of the war. She found out that the organization not only included Zubov, but was led by none other than the Tsar's confidante Grigori Rasputin. She also overheard their plans to capture Nikola Tesla (who had informed the Tsar and Saxony's Kaiser as to Fenris's existence,) to kill the Kaiser, and to reignite the war to cover their tracks. While she went to Dresden to warn the Kaiser herself, she and convinced Janek to infiltrate Fenris, which he succeeded in doing.
Alliance with Gunter Von Duisburg
[
]
Arriving in Dresden, she was debriefed by the Kaiser who sent for his own confidante: Gunter Von Duisburg, who reluctantly agreed to come to the capital. Once there, however, embittered towards his commander for a previous scandal, Gunter refused to listen on the Fenris matter until later on. Olga remained largely in the shadows while Gunter was then framed for the Kaiser's murder by the emperor's own son Prince Wilhelm, aiding Gunter's flee from Saxony by rigging a border bridge to explode behind him and rejoining him across the border. Rather than fighting Wilhelm and recapturing Dresden, which she reasoned would only strengthen the mad prince's narrative, she advised instead she and Gunter take the latter's forces to the Factory where they would be safe and out of reach.
However, once reaching the Factory and escaping Wilhelm's forces dogging their every step, Olga and Gunter found the Factory had been breached by Zubov's and Janek's Rusviet forces, who were also under siege by elements of the Polanian military and resistance fighters. Joining up with Anna Kos's rebels and Michal Sikorki's cavalry, Olga and Gunter forced their way into the factory just in time to rescue Nikola Telsa and Janek from Zubov, although not in time to stop Tesla's trump card: Icarus had activated and would cause incredible devastation if not stopped. While the colonel escaped in the ensuring chaos, Olga and all her new allies, including Rusviet troops defecting from Zubov's forces, fought and narrowly defeated the monstrous machine before it could fire its weapon.
Now without support from either the Polanian, Rusviet, or Saxonian governments, Olga rallied all the Rusviet defectors together with Gunter and Anna's forces to start repairing the Factory to mount a defense against Fenris. Together with her spy abilities, Tesla's technology, Anna's reconnaissance, and Gunter's tactics, Olga felt confident that the alliance of the three nations would stand a chance of overthrowing Fenris where emperors and kings had failed.
Return to Rusviet
[
]
With the Factory secure for the moment but the threat of Rusviet still looming, Olga returned to her homeland to find it in full civil war. Fearing for the Tsar's safety, she went to one of the safe houses whose location he had entrusted her with, and not a moment too soon: revolutionaries tipped off and armed by Fenris soon attacked the compound. After mounting an effective defense, Olga debriefed the Tsar on Rasputin's treachery, reasoning that he was the only other person who knew the safe house's location. The Tsar was hesitant to believe her, having been told the attack on the Factory was merely an unsanctioned move by Zubov acting alone, that Olga was aligned with traitors, and not having heard from her in weeks. However, he agreed to return to St. Petersburg with her, donning a disguise at her suggestion.
The situation proved more grim the further they fought: Fenris had stoked the fire of revolution using collaborators posing as "loyalists" to forcibly conscript civilians, raid their supplies, and kill anyone who resisted. Stealing a ship to avoid the roads, Olga and her forces escorted the Tsar to the city harbor, where they were severely outmatched by loyalist forces headed by Zubov. While Olga held off Zubov's men, the Tsar attempted to use a radio tower to send out a broadcast exposing Rasputin, Fenris, Zubov, and to unite Rusviet towards defeating this enemy within. Unfortunately, Rasputin had thought a step ahead of Olga: hiding in the radio building, he murdered Nicholas when he entered alone and hijacked the broadcast to announce the revolution's victory with the Tsar's death. Olga was devastated, but knew the situation was lost and retreated.
Although she is not alone, with the entirety of Rusviet under Fenris control and Saxony still under the rule of the insane Prince Wilhelm, Olga remarked that she did not know what to expect in the days to come.
Weapons
[
]
Her main ranged weapon is a submachine gun that has short range but can gun down a man with a single burst. Her secondary weapon is her shaska saber, which slices men to pieces. She can also plant explosive charges that can be remotely detonated manually or if she gets a certain distance away.
Abilities
[
]
Remote Detonators: Place a remote detonator on a specific target. Explodes automatically when Olga is out of range.
Rider the Tiger: Call Changa and ride her as a mount, gaining movement speed. This breaks stealth as long as she is mounted. If she attacks a target, she dismounts and Changa joins her in the fight for a short time before going into hiding again.
Camouflage (Passive): Olga is invisible to enemies unless she gets close to them or she interacts with an object. She regains stealth when no enemies are nearby. Her stealth breaks when she is about half into an enemy's range.
Trivia
[
]
Olga Romanova was the daughter of the last Russian emperor Nicholas II. Olga, Nicholas II, her brother Alexei and sisters Tatiana, Maria, Anastasia and her mother were killed by communist revolutionaries in Ipatiev's house on 17th July, 1918. If she is indeed from the same family in a different timeline, it is possible that, at least in the Scythe lore, the Romanov family lost their influence instead of holding power and thus were not killed during the Revolution, which also happened some years later in the 1920+ universe.

Her last name was changed for the Iron Harvest campaign, as were many of her character design features. One such feature is her hat.
Her first name means "Holy."
Her lover in Scythe, Viktor, is depicted as a regular Rusviet soldier in Iron Harvest whose identity she swaps for Janek's to aid his infiltration of Fenris as well as hide his Polanian nationality.
Images
[
]