"Please be aware!"
This article reflects beta content, so content is subject to change.
Like what you see? Go to the official site for further information!
The PZM-11 "Lowca" is a medium-armored mech hunter that fires close range bolts destroying all kinds of armor.
General Description
Edit
The PZM-11 "Lowca" is a bipedal anti-mech mech. Both arms are equipped with giant nailguns that fire armor piercing bolts at targets. It is very effective at taking out all kinds of armor or fortified buildings, but less effective against infantry.
The Lowca is pretty much only good at taking out other armored units. With its slow movement and low range it is more effective when it has support to distract or take the bulk of incoming fire while it attacks. Due to the fact that it only has anti-mech attacks, countering a Lowca with anti-mech infantry is the most effective way of taking it out.
The Lowca has two piercing nailguns, that are shooting in alternation and which are very effective against all types of armor. Furthermore it has an harpoon, that becomes available as soon as the Lowca reaches its first veterancy-level.
Abilities
Edit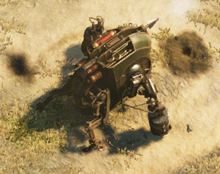 The Lowca comes with a special ability, that is called "Sting". When using this ability, the PZM-11 "Lowca" kneels down and shoots the harpoon from its back on the enemy. A hit deals very high amounts of damage to all sorts of targets, but its main drawback is, that the shooting range is very small.
"Lowca" is the polish word for "Hunter"
Community content is available under
CC-BY-SA
unless otherwise noted.