"Please be aware!"
This article reflects beta content, so content is subject to change.
Like what you see? Go to the official site for further information!
The
PZM-13 "Mocny"
is a medium-armored mech with a heavy cannon. Can be deployed to increase damage and range at the cost of mobility.
General Description
Edit
The PZM-13 "Mocny" is a quadra-pedal, slow and heavy armored mech and artillery platform. While in walking mode, the Mocny acts as a mid ranged mech, capable of taking out just about any medium- or light-armored target, but the Mocny can then go into "deployment" mode which turns the mech into a long ranged artillery platform. While deployed the Mocny is unable to move but has it's attack range increased dramatically so that it can fire at enemies from afar with devistating results.
While the Mocny can take out just about any squad or mech in 1-2 hits, it's biggest weakness is it's mobility. The Mocny is very slow both in movement and in firing. It's indirect artillery shells also mean that enemies can easily move out of the way of incoming shells if they are aware of the Mocny incoming barrages and it's slow firing speed mean that there are large openings where enemies can move without worry of incoming fire. Deployment mode also comes with an added "dead zone" in which it is unable to target unites that come to close. It also takes about 4 seconds in order for the Mocny to switch between tank mode and artillery mode leaving it even more open to incoming attacks.
Because of this, it is a good idea to try and keep the Mocny as far back as you can, and to have it heavily defended and supported. When attacking, it is best to quickly close the gap between you and the Mocny so that way you are out of firing range from incoming shells.
The PZM-13 "Mocny" has a cannon, that can be used when standing or when beeing deployed. This cannon has different ranges and damage values for both of these cases. Furthermore it has an side-machine-gun that is placed at its right side.
Abilities
Edit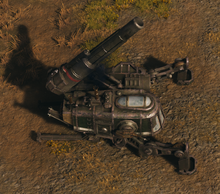 The PZM-13 "Mocny" has the ability to be deployed on the battlefield. This increases its attack range and changes the damage values of its cannon.
Furthermore it has an ability that isn't available in the current game. It is called "Smokescreen", it is probably unlocked by reaching the first veterancy-level and its description says, that it creates a smokescreen which obscures the line of sight.
"Mocny" is the polish word for being strong. In English you would probably say "The Strong".
Community content is available under
CC-BY-SA
unless otherwise noted.