"Please be aware!"
This article reflects beta content, so content is subject to change.
Like what you see? Go to the official site for further information!
The PZM-16 "Nosidelko" is a heavily armored mech that can transport an infantry squad, which can fire from within while remaining protected by its heavy armor.
General Description
Edit
The PZM-16 "Nosidelko" (Transporter) is a quadra-pedal heavy armored transport mech. Despite it's size and heavy armor, the Nosidelko is actually quite fast, rivaling that of PZM-7 "Smialy". The Nosidelko is also able to house 1 infantry squad. Firing slits surround its entire body, enabling the squad that housed to shoot at enemies while protected and on the go. On the top of the body is a mortar launcher that is effective at taking out just about any armor type.
The PZM-16 "Nosidelko" is quite literally a walking bunker, great in both defending points, ranged support and transporting units to the front lines. Unlike other mechs the Nosidelko does not have any exposed weak points. While it may seem like a unstoppable machine, it is very costly to build and can be easily taken out with highly mobile targets. It is best to keep the Nosidelko near the back of the lines for support and defense rather than a full out assault.
The PZM-16 "Nosidelko" has a small mortar, that is placed on its top and that is able to rotate in every direction. It is meant as a support weapon for the unit that is transported by the PZM-16.
Abilities
Edit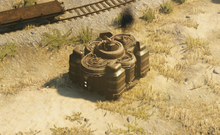 The PZM-16 "Nosidelko" has the ability to transport a single infantry unit. The transported unit is then able to shot from inside, while beeing protected by the PZM-16's heavy armor.
Furthermore the Nosidelko gets the ability to be deployed on the battlefield (see image) as soon as the mech reaches the first veterancy-level. This ability grants it a defense bonus which reduces all damage it receives by 25%.
"Nosidełko" Is a Polish word for a handheld baby carrier.
Community content is available under
CC-BY-SA
unless otherwise noted.