Jurassic World: Dominion Dominates Fandom Wikis - The Loop
Play Sound

The Rusviet Tsardom, also referred to in some materials as the Rusviet Union, or simply Rusviet, is a nation and faction in the world of 1920+.
It is huge, powerful, and has unmatched industrial and population potential. However, the country is tired and worn out by the Great War, famine, and internal unrest. People are frustrated, and the power of Tsar Nicholas weakens. The mysterious Grigori Rasputin has become an extraordinarily powerful man and revolution is in the air.
Government
[
]
The Rusviet Tsardom, or what other name it has given itself, is currently a Fenris-Aligned state aussumedly under communistic rule by the people, or by Rasputin. Previously, Rusviet was a constitutional monarchy under the Tsar, but is transitioning to a more constitutional system, which is not proceeding without opposition from within. Its capital is the city of St. Petersburg. This was early on, as in 1905, a revolution occurred, causing the Tsar to cede some of his power to form the modern Rusviet state. In 1920, a second revolution, in part caused by the Tsar's advisor, Rasputin, succeeded in overthrowing the Tsar, mainly because they had military support from Fenris operatives. The exact form with which the new government will take has yet to be seen, but it appears to have radical socialist leanings with the confiscation of property and execution of landlords.
Military
[
]
Their military doctrine tends to revolve around diverse combined arms and aggressive, forceful tactics, with a lot of anti-infantry capabilities and units built around close-range or melee. Their mechs have simplistic but rugged designs, while their buildings are oppressive and fairly simple, built to last with lots of concrete and steel.
Tactics (Iron Harvest):
[
]
As a faction, the doctrine of the mainline Rusviet army revolves around the offense, with many of their units and heroes being centered on getting up close, and punching hard. Secondarily, it should be noted that some Rusviet units have an affinity for fire, namely the SHM-56 Ognivo. As such, while these units are prevalent, and often carry several positives, to use them is not always the most optimal. A good Rusviet always knows their strengths and weaknesses, as such, when choosing which legendary commander to bring to the frontlines, that is of critical importance. Lev Zubov is a highly effective commander if one wishes to be breakthrough-centric, though his jump is difficult to master. As such, his presence in the later game is valuable, for his melee strikes do considerable damage. On the opposite end is Rusviet's sneaky spymaster, her SMG can attack and destroy single squads, and Changa's mobility allows for fast escapes when things get dicey. Victor Popov is a mix of both, a Glass Canon who need support, but if given, can annihilate other armored units in little time. His Gauss Cannon hits incredibly hard, and strikes true for the motherland. Rusviet's early pushes, with smart commanders constructing a Barracks before their Workshiop, are likely to be dominated by light mechs, Gunners, and Vanguard Infantry, at least until the middle game can be reached. Once in the middle game, and when Mechs begin rolling, the battles for territory become much much more difficult. It is also here where a Rusviet Commander must know their enemy to serve the Motherland well. Against a Polanian force, it is often best to make more Gunners, as their Anti-Armor capabilities are more efficient from range than the other option. If one is doing battle with the Saxons, however, Exosuits are preferred, as their high anti-armor damage at close range will destroy the slower Saxon mechs. Similar in tactical shift is going into the later games of attrition, where against the Polanian, the Nagan is more desirable. It's anti-mech ability, relative tankiness, and low cost ensure it will get something done, especially when backed up by artillery. Against the Saxon, the opposite is true. Oftentimes it pays to trade one of your Nagans for a Nakovalnya to provide excellent firepower until you can deploy your true walking behemoths. These weapons are a 'final weapon' of sorts. Ample meatshields, and incredible damage-dealers, these two are the culmination of our final push, a classic Rusviet offensive of desvastating steel in the most personal way. Glorious melee for the Tsar!
Symbol & Colors
[
]
The symbol of the Rusviet Tsardom is a red five-pointed star. The color scheme for the faction's units are bright red and black or a dark grey.
Templin Institute Video
[
]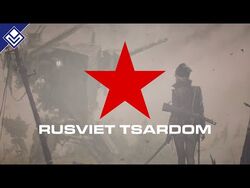 Scythe Abilities
[
]
Faction

[

]
Relentless: The same section on the player mat as the previous turn may be chosen.
Mechs

[

]
People's Army: In combat where there is least one worker, one additional combat card may be played.
Riverwalk: Moves across rivers to Farms and Villages.
Speed: +1 hex per movement.
Township: Moves between any village that Rusviet controls and the Factory.
Iron Harvest Units
[
]
Heroes

[

]
| Icon | Hero | Short-Description |
| --- | --- | --- |
| | Olga Romanov | A stealthy agent capable of ambushes and sabotage with a pet tiger. |
| | Janek Kos | A cyborg kept alive by an advanced exosuit with heavy firepower. |
| | Lev Alekseevich Zubov | Aristocrat and tactician piloting a state-of-the-art heavy melee mech. |
Infantry

[

]
| Icon | Infantry | Short-Description |
| --- | --- | --- |
| | Rusviet Engineers | Rusviet unit that can construct buildings, fortifications, and mines. |
| | Rusviet Vanguards | Basic Rusviet infantry. Armed with shotguns. |
| | Rusviet Grenadiers | Vanguards with grenades. |
| | Rusviet Gunners | Rusviet infantry unit with anti-mech capabilities. |
| | Rusviet Medics | Used to heal friendly infantry units. Cannot be produced by Rusviet, requires weapon pickups. |
| | Rusviet MG | Strong anti-infantry unit that causes suppression. Cannot be produced by Rusviet, requires weapon pickups. |
| | Rusviet Flamethrower | Strong anti-infantry unit, that can be used to damage units with high amounts of cover (e.g. units in buildings). |
Exo-Skeletons

[

]
| Icon | Exo-Skeleton | Short-Description |
| --- | --- | --- |
| | SHM-60 "Groza" | Mobile light-armored soldiers with jetpacks and armor-piercing blades. |
Iron Harvest Mechs

[

]
Rusviet mechs present diverse units and unique technology, favoring a more aggressive playstyle with close-ranged units, melee units, and area-of-effect weapons suited for crowd control. Many of the larger mech designs seem to be inspired by ships. They are named after weapons and objects in relation to their designs such as sickle (Serp), flint and steel (Ognivo), and a revolver (Nagan).
Rusviet has the following mechs:
| Icon | Mech | Short-Description |
| --- | --- | --- |
| | SHM-86 "Kolokol" | Light armored skirmisher with a grenade launcher effective against grouped units. |
| | SHM-78 "Ognivo" | Medium armored anti-infantry flamethrower mech that can eliminate units in cover. |
| | SHM-79 "Nagan" | Medium armored anti-mech unit that can slug it out with enemy armor. |
| | SHM-68 "Nakovalnya" | Light armored artillery mech, fires an arched barrage of rockets. |
| | SHM-69 "Serp" | Heavy armored giant with two huge scythe blades, relatively fast and can suppress infantry. |
| | SHM-70 "Gulay-Gorod" | Mobile fortress with thick armor and bristling with weaponry. |
Airships

[

]
| Icon | Aircraft | Short-Description |
| --- | --- | --- |
| | Skybike | A small flyer built for air superiority. Effective against other airships. |
| | Dropship | Transport aircraft that can fly infantry squads across the battlefield. |
| | Gunship | Aerial support platforms that are effective against armor. |
Trivia

[

]
Rusviet (pronounced roos-veeyett) is based on the real nation of Russia, specifically when it was the Russian Empire.

The name Rusviet is a portmanteau of Russia and Soviet, both states that the country has been under the name of.
Notably, the word "Rusviet" in the setting of 1920+ seems to refer to both the land of and people who, in real life, would be called Russian. Thus, unlike the other main factions, it does not describe a different political alignment of power (such as "Saxonian" taking the place of "German") but represents, more or less, a real-world ethnicity by a fictional name.
Rusviet did not experience a successful Bolshevik revolt in 1917 and remained a monarchy under the Tsar. As a result, St. Petersburg is still the country's capital and the latter has not been moved to Moscow.

According to the Templin Institute video, revolution was narrowly avoided by means of the Tsar relinquishing some authority to a national assembly and offering concessions to republican and moderate-revolutionary political factions, such as replacing the traditional national heraldry of Rusviet with the single red star, representative of one of the nation's most radical factions. In real-life, the red star has frequently been used by various Communist groups.
As of the introduction of the Revolution DLC, Rusviet has undergone a successful revolution lead by Rasputin about four years after the one in our timeline, leading to the Tsar's execution.
It is possible that following this revolution, the official name of the country is no longer the Rusviet Tsardom but the Rusviet Union.
Instead of being assassinated in 1916, Grigori Rasputin is still alive and currently gaining control over the Rusviet government.
Instead of Russia losing the Russo-Japanese war in 1905, Rusviet went to war with the Factory in 1905 but still lost due to the technological advantage of Tesla's defenses.
Rusviet's decision to equip their troops with shotguns in the Great War gave rise to Saxony protests as to their effectiveness in close quarters, mirroring the German Empire's protests of the United States armed forces using the Winchester Model 1897 shotgun in World War I.
The prefix/model designation given to Rusviet mechs and Exosuits, SHM, stands for Shagayushaya Machina, literally translating to "Walking machine"
In the world of 1920+, Rusviet retains control over Alaska in the North American continent.
Gallery

[

]

https://megagamecoalition.com/wp-content/uploads/2019/02/Sickle_NationManual_Rusviet.pdf