"Please be aware!"
This article reflects beta content, so content is subject to change.
Like what you see? Go to the official site for further information!
The SKS-300 "Kaiser" is one of Saxony's heaviest war machines, armed to the teeth with a variety of weaponry.
General Description
Edit
The SKS 300 "Kaiser" is an ultra-heavy mech equipped with a frontal facing cannon and multiple machine guns on its side to give it the ability to deal with both infantry and mechs alike. It's special ability also allows it to stay immobile and deal more damage while activating missile launchers as well. One important thing to notice about the Kaiser is, that it has no weak spots, which makes it together with the huge number of weapons it has to a walking fortress.
The SKS 300 is equiped with a variety of weapons. Its main weapon is a big turret, which deals decent damage to mechs and infantry. Furthermore it has a heavy machine gun at each of its four sides, which makes this mech even stronger against infantry and light mechs. Reaching the first veterancy-level allows it to use its special ability, which reveals a rocket battery at each side (except for the back) of the mech.
Abilities
Edit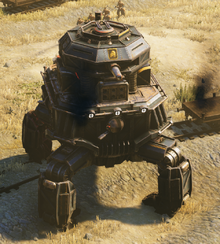 The SKS 300 "Kaiser"'s ability allows him to become immobile and to reveal its rocket launchers, like you can see on the image at the left. These are otherwise hidden under its turret. When using the ability, the turret is shiftet up, so that the rocket launchers are revealed. This allows this mech to increase its damage output even further and lets use it its whole arsenal of weapons.
"Kaiser" Is the german word for an emperor
Community content is available under
CC-BY-SA
unless otherwise noted.