"Please be aware!"
This article reflects beta content, so content is subject to change.
Like what you see? Go to the official site for further information!
The
SLL 33 "Erlkönig"
is a fragile and low-mobility mech that exces at dealing high damage over very long ranges. Needs to be deployed to fire.
General Description
Edit
The SLL 33 "Erlkönig" is a bipedal artillery mech. Unlike the PZM-13 "Mocny" the Erlkönig can only fire while beeing deployed.
The Erlkönig deals much more damage than the Mocny, but similar to the Moncy, the Erlkönig also has a "dead zone" in which the Erlkönig will be unable to target enemies that are too close or behind. Due to it's lower armor class and and having less defensive capabilities the Erlkönig is much easier to take down. It is best to keep the Erlkönig as far back as you can to avoid any attacks on it.
The SLL 33 "Erlkönig" has a artillery cannon, which is able to fire indirectly (ignoring line of sigth) at enemy units. Currently its the weapon with the highest range in the game. However the SLL 33 needs to be deployed to fire this cannon.
Abilities
Edit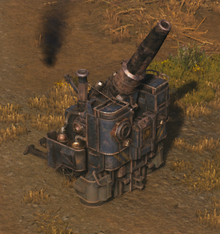 The SLL 33 has the ability to be deployed on the battlefield. This allows it to fire with its artillery cannon.
Furthermore it gets the ability "Flare Shot", as soon as it reaches its first veterancy-level. This ability fires a flare, which reveals the fog of war in a specific area for a short duration.
"Erlkönig" translate to "Elf King"
Community content is available under
CC-BY-SA
unless otherwise noted.