"Please be aware!"
This article reflects beta content, so content is subject to change.
Like what you see? Go to the official site for further information!
The Saxony Empire is a nation and faction in the 1920+ universe.
It is one of the most influential countries in Europa, with powerful industry, developed cities, modern factories, and a strong military tradition. After the unfavorable conditions of surrender in the Great War, the current mood in the Empire is bad, and proud elites and humiliated aristocrats secretly oppose the Emperor's appeasement policies.
Saxony's current form of government is an absolute monarchy. Its capital is the city of Dresden.
Their military doctrine typically revolves around armor and firepower superiority, slowly but surely pounding their way to the objective or having a strong defense. Their mechs have intricate, well-engineered (if not complicated) designs with a very "steampunk" aesthetic while their buildings are even more so, covered in sheet metal and pipes.
Their symbol is a golden wolf, and their unit colors are blue and light grey.
| Icon | Hero | Short-Description |
| --- | --- | --- |
| | Gunter von Duisburg | A Great War veteran with a hand-cannon as a weapon and two wolves as companions. |
| | Prince William of Saxony | Prince of Saxony in control of one of the most technically advanced mechs in the world of 1920+. |
| | Brunhilde | Gunter von Duisburg's titanic personal mech with impregnable armor and many cannons. |

| Icon | Infantry | Short-Description |
| --- | --- | --- |
| | Saxon Engineer | Saxonian unit that can construct buildings, fortifications, and mines. |
| | Saxon Stormtrooper | Basic Saxon infantry. Armed with automatic machine-pistols. |
| | Saxon Grenadier | Stormtroopers with grenades. |
| | Saxon Gunner | Saxonian infantry unit with anti-mech capabilities. |
| | Saxon Medic | Unit that can heal friendly infantry units. |
| | Saxon MG | Very strong anti-infantry unit that causes suppression. Cannot be produced. |
| | Saxon Flamethrower | Very strong anti-infantry unit that can be used to damage units with high amounts of cover (e.g. units in buildings). Cannot be produced. |
Neither mech nor infantry, but something in between. Each faction's Exos are unique and can be found quite effective on the battlefield.
| Icon | Exo-Skeleton | Short-Describtion |
| --- | --- | --- |
| | Pkp 17 "Eisenhans" | Squad of medium-armored soldiers with mortars on their backs and armor-breaking battering rams in their hands. |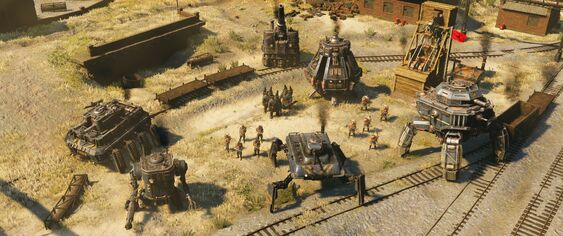 Saxonian mechs tend to be slow and fairly expensive, but also have superior armor and firepower. The majority of the Saxon mechs have box-like structures and less rounded or smooth designs compared to Polania and Rusviet. They often take on the appearance of conventional tanks but with spider or crab legs. Most of the mech-names are based on characters or creatures from German fairy-tales and folk-lore.
| Icon | Mech | Short-Desciption |
| --- | --- | --- |
| | Sd. KS 49 "Grimbart" | Light-armored anti-infantry-mech with a gatling gun capable of taking out unarmored and light units. |
| | Sd. KS 78 "Isegrim" | Medium-armored, highly versatile mech effective against infantry and light-to-medium armor. |
| | MWF 28 "Stiefmutter" | Light-armored mech deploying explosive wheels which follow enemies. |
| | SLL 33 "Erlkönig" | Light-armored artillery-mech with an enormous range. |
| | SKS 156 "Wotan" | Heavy-armored mech capable of tearing apart all types of armor |
| | SKS 300 "Kaiser" | Very heavily-armored mobile fortress capable of taking on almost anything. |
Instead of being one of the sixteen German states, Saxony has replaced Germany and as such Dresden is its capital and seat of power instead of Berlin. This would possibly indicate that in the 1920+ universe it was Saxony that unified the German states into a nation state instead of Prussia.
Instead of the German Empire being reformed into the German Reich after the 1918 German Revolution, the Saxony Empire retains its title and structure and exhibits no noticeable internal political dissidence.

This may change now that Wilhelm has taken absolute power and become a mad dictator.
Instead of the German monarchy being dissolved in 1918 with the abdication of Wilhelm II, the Saxony Empire remains a monarchy under the Kaiser.
Saxon is actually based off the real-world Saxony, one of the sixteen German states which was conquered by its fellow state of Prussia in and in 1871 was unified with the other states into the German Empire. After multiple reconstitutions, today it is known as the Free State of Saxony.
Community content is available under
CC-BY-SA
unless otherwise noted.