We're Getting Mutants in the MCU - The Loop
Play Sound

The Saxonian Empire AKA the Empire of Saxony is a nation and faction in the 1920+ universe.
It is one of the most influential countries in all Europa, with powerful industry, developed cities, modern factories, and a strong military tradition. Their lands are full of large pine forests and snow falls often.
However after the unfavorable conditions of ceasefire ending the Great War, the current mood in the Empire is bad, and proud elites and humiliated aristocrats secretly oppose the Kaiser's appeasement policies.
Government

[

]
The Empire of Saxony's current form of government is a federal parliamentary semi-constitutional monarchy. The current capital of Saxony is the city of Dresden. The current leader of the nation is Kaiser Friedrich, his heir to the throne is his son Prince Wilhelm. In Iron Harvest's continuity, during the course of the Saxon campaign Kaiser Friedrich is assassinated and his son takes the throne.
Military

[

]
Their military doctrine typically revolves around armor and firepower superiority, slowly but surely pounding their way to the objective or having a strong defense. Their mechs have intricate, well-engineered (if not complicated) designs with a very "steampunk" aesthetic while their buildings are even more so, covered in sheet metal and pipes.
Tactics (Iron Harvest):
[
]
The Empire's tactics are both complex and simple, built around the philosophy of overwhelming firepower, and defensive bulwark above all. To achieve such feats, however, much of Saxony's equipment is slow, and often cannot respond to threats of a mass flank. So being, a good Saxon general should rely not on one unit type, nor just on mechs, but on a combined arms approach to war, utilizing the industry and loyal, experienced manpower as best possible. Do keep in mind, however, the mainline infantry, the sub machine gun-wielding Stormtrooper, is subpar, at least initially, though it is always wise to use them for both battle and capturing points. Unlike others, however, Stormtroopers ramp up extremely well when they have gained sufficient battlefield experience. Groups of Saxons when their battle cry is active, and they are in cover, are more than capable of obliterating swathes of infantry with precise fire. As a commander, much effort should be given to deploying your reserve forces, often the second wave of units, if staffed by Saxony's iron wall, can be the death knell to an opponent. However, this requires victory in early game fights, so often, it will be wise to deploy a barracks first, then move into the Workshop afterwards. Another possible deployment group would be if one deployed Gunter, though this uses more infantry-based early aggression, which your forces can do, but are not fully equipped to handle. This is similar to the Crown Prince, excepting that he is less useful in general, but capable of good effect in early-game mech fights. All strategies should have a final goal in mind. The so-called Great Wall of Saxony, where the slow, crushing advance of mechs is equal to its almost-impenetrable defenses. Better suited to Brunhilde being deployed, such strategies often consist of a group of two Kaisers, a Wotan or Stiefmutter, a Grimbart, and if needed, a field cannon. In some circumstances, the long-range battery fire of the Erlkoenig is a sight to behold, causing losses from long distance, and while not a backbone, certainly an able contraption to include with a formation. An astute observer will note that many of the mention units fall under the category of late-game units. Indeed this is true, the strength of Saxony comes later, when they can deploy masses of highly-advanced mechs to dominate a battlefield, when they will cease to suffer from Polania's fast attack units, or Rusviet's monstrous firepower in the early game.
Symbol & Colors

[

]
Their symbol is a golden wolf, and their unit colors are blue and light grey. They also use a flag or the black shield bearing the golden wolf is on a flag divided between a white stripe at the top and a black stripe at the bottom.
A blue flag, depicting the golden wolf but with a crown above it, is also visible in the Kaiser's office.
Templin Institute Video

[

]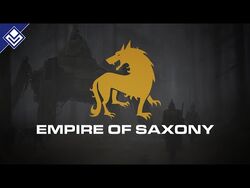 Scythe Abilities

[

]
Faction

[

]
Dominate: There is no limit to the amount of Stars that can be placed from completing Objectives and winning combat.
Mechs

[

]
Disarm: Before combat, on a territory with a Tunnel, an opponent loses 2 Power.
Riverwalk: Moves across rivers to Farms and Villages.
Speed: +1 hex per movement.
Underpass: Moves between any Mountain you control and any Tunnel.
Iron Harvest Units

[

]
Heroes

[

]
| Icon | Hero | Short-Description |
| --- | --- | --- |
| | Gunter von Duisburg | A Great War veteran with a hand-cannon as a weapon and two wolves as companions. |
| | Prince Wilhelm of Saxony | Prince of Saxony in control of one of the most technically advanced mechs in the world of 1920+. |
| | Brunhilde | Gunter von Duisburg's titanic personal mech with impregnable armor and many cannons. |
Infantry

[

]

| Icon | Infantry | Short-Description |
| --- | --- | --- |
| | Saxonian Engineer | Saxonian unit that can construct buildings, fortifications, and mines, as well as repair mechs. |
| | Saxonian Stormtrooper | Basic Saxon infantry. Armed with automatic machine-pistols. |
| | Saxonian Grenadier | Stormtroopers with grenades. |
| | Saxonian Gunner | Saxonian infantry unit with anti-mech capabilities. |
| | Saxonian Medic | Unit that can heal friendly infantry units. |
| | Saxonian MG | Very strong anti-infantry unit that causes suppression. Cannot be produced in multiplayer |
| | Saxonian Flamethrower | Very strong anti-infantry unit that can be used to damage units with high amounts of cover (e.g. units in buildings). Cannot be produced in multiplayer. |
Exo-Skeletons

[

]
Neither mech nor infantry, but something in between. Each faction's Exos are unique and can be found quite effective on the battlefield.
| Icon | Exo-Skeleton | Short-Describtion |
| --- | --- | --- |
| | Pkp 17 "Eisenhans" | Squad of tough medium-armored soldiers with mortars on their backs and armor-breaking battering rams in their hands. |
Mechs

[

]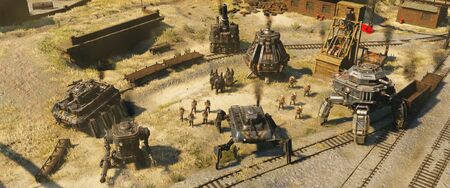 Saxonian mechs tend to be slow and not very maneuverable, but also have superior armor and firepower. The majority of the Saxon mechs have box-like structures and less rounded or smooth designs compared to Polania and Rusviet. They often take on the appearance of conventional tanks but with spider or crab legs. Most of the mech-names are based on characters or creatures from German fairy-tales and folk-lore.
| Icon | Mech | Short-Desciption |
| --- | --- | --- |
| | Sd. KS 49 "Grimbart" | Light-armored anti-infantry-mech with a gatling gun capable of taking out unarmored and light units. |
| | Sd. KS 78 "Isegrim" | Medium-armored, highly versatile mech effective against infantry and light-to-medium armor. |
| | MWF 28 "Stiefmutter" | Light-armored mech deploying explosive wheels which follow enemies. |
| | SLL 33 "Erlkönig" | Light-armored artillery-mech with an enormous range. |
| | SKS 156 "Wotan" | Heavy-armored mech capable of tearing apart all types of armor |
| | SKS 300 "Kaiser" | Very heavily-armored mobile fortress capable of taking on almost anything. |
Airships

[

]
| Icon | Aircraft | Short-Description |
| --- | --- | --- |
| | Skybike | A small flyer built for air superiority. Effective against other airships. |
| | Dropship | Transport aircraft that can fly infantry squads across the battlefield. |
| | Gunship | Aerial support platforms that are effective against armor. |
Trivia

[

]
Instead of being one of the sixteen German states, Saxony has replaced Germany and as such Dresden is its capital and seat of power instead of Berlin. This would possibly indicate that in the 1920+ universe it was Saxony that unified the German states into a nation state instead of Prussia. In maps of the 1920+ timeline Prussia is still shown to exist despite this fact however.

Curiously, despite the Great War of 1920+ not ending with the Treaty of Versailles but a Ceasefire organized by the Tsar; Polania controls the corridor between Prussia and Saxony. In Real life this corridor was a specific condition of the Treaty.

Instead of the German Empire being reformed into the Weimar Republic after the 1918 German Revolution, the Saxony Empire retains its title and structure and exhibits no noticeable internal political dissidence.

This may change now that Wilhelm has taken absolute power and became a mad dictator.
Saxony is actually based off the real-world Kingdom of Saxony, one of the sixteen German states which was conquered by its fellow state of Prussia and in 1871 was unified with the other states into the German Empire. After multiple reconstitutions, today it is known as the Free State of Saxony.
Saxonian units pronounce the "g" in "MG" (abbreviation for "machine gun") with a hard "gee" instead of of a soft "jee."
Images

[

]